VASEY Recognized as an Industry Leader
At the 2019 annual principals' meeting in Fort Lauderdale, Florida (sponsored by LINC Service), the VASEY team received multiple awards in recognition of their superior performance within the industry. Out of more than 200 franchises, VASEY was distinguished as one of the top firms for sales, for single location performance, and award-winning service.

Bill Newton, a long-time tenured salesperson at VASEY, joined an elite group; he was recognized as a Diamond Award Winner. A Diamond Award winner must sell, as an individual, $1.4 million in a single calendar year. This award is the highest award a LINC salesperson can receive. In addition to the award, Bill received a free trip to Fort Lauderdale – packed with fun activities such as sailing a catamaran, deep sea fishing, sightseeing, and fine dining. Congrats Bill. We appreciate your hard work and dedication to your VASEY clients.
VASEY – Proud Sponsor of the Indianapolis Colts

Our principals, David Sheffield and Tom Slagle, attended the inaugural Indianapolis Colts Business Summit presented by hackd on April 11th, at the newly renovated Indiana Farm Bureau Football Center on West 56th Street, Indianapolis, Indiana.

The primary event goals – to connect other Colts sponsors, highlight the power of the NFL and Colts brands, discover leading technologies presented by hackd, and gain a greater understanding of ways VASEY can positively impact the community.

In addition to wonderful food and presentations, VASEY also enjoyed a tour of the multi-million-dollar renovation of the Indiana Farm Bureau Football Center. Renovations included the weight room, locker room, training room, cafeteria, pavilion, and football operations offices.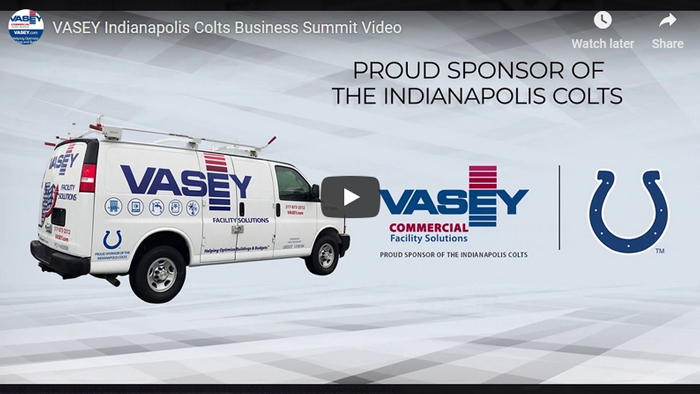 | | | |
| --- | --- | --- |
| | | More than 50% of VASEY team members and their families (over 200 in attendance) enjoyed a fun-filled day at the Indianapolis Children's Museum on Saturday, May 4, 2019. With the Star Wars theme, "May the 4th Be with You," children saw Darth Vader, Emperor Palpatine, and Storm Troopers – up close and in person. Although, Emperor Palpatine had the smallest line for photo opportunities – Hmm, we wonder why? Never fear, Rick Cope, our Director of Project Sales wasn't bashful. |
Families viewed hundreds of exhibits including the Dinosphere, American Pop, Dale Chihuly's Fireworks of Glass, PAW Patrol, Treasures of the Earth and many more. Team members witnessed their friends and family explore the museum with youthful amazement and wonder. VASEY is a family-oriented workplace – always placing emphasis on work-life balance as well as helping one another.
Drain Cleaning, Camera Line Inspections, and Pipe Locating Services
Did you know VASEY offers commercial and residential drain cleaning, camera line inspections and pipeline locating services? Whether you're a resident or a restaurant, a clogged drain puts a crimp in everyone's style and disrupts routines.

Our drain cleaning services include scheduled maintenance and emergency services for floor drains, sewer drains, and kitchen drains. Do you have clogged sewer lines or drains? Could you benefit from a camera line inspection? Moreover, what about pipe locating services? If so, we can help! Call us today!