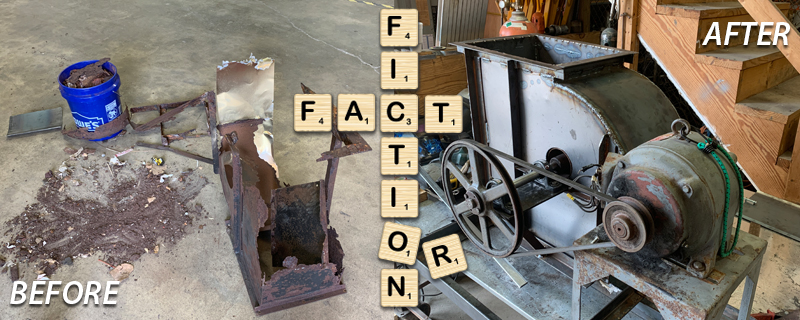 It's a FACT! Our technician traveled to a nearby church — the before, a draft inducer, barely held together by spittle, rust, and dirt. The draft inducer is designed specifically to ensure that combustion gases are vented properly out of the furnace to the outside.
We called the manufacturer. The lead time to order and ship a new fan – a whopping EIGHT weeks!! That means, the church would be affected in the months of October through December – without proper air circulation.
We all know how fickle Mother Nature can be in Indiana. We weren't satisfied with status quo. Our solution? We built a new fan 100% from scratch and the system was up and running in a week.
At VASEY, we have the tools, equipment, and brainpower to think outside the box and customize solutions to meet our customers' exact specifications. Our customer was thrilled, and we were able to save them a substantial amount of money.
VASEY Supports the Finish Line Youth Foundation
Finish Line is a long-time customer of VASEY. One reason, both our organizations believe in giving back and making a positive impact on our community. We helped support the Finish Line Youth Foundation (Special Olympics) and attended their annual Fundraising dinner, An Epic Evening - August 26, 2019, at the Biltwell Event Center, featuring Carli Lloyd as our keynote speaker.

Carli Lloyd, an American soccer player (two-time Olympic gold medalist, two-time FIFA Women's World Cup champion, two-time FIFA Player of the Year, and a three-time Olympian) shared the power of soccer in developing her perseverance, unmatched focus, commitment to the game, and ultimately to embracing the journey.

DONATE: Click to make a donation to Special Olympics

Watch this Video Click to discover more about the Finish Line Youth Foundation and the impact it has on our gifted athletes.
WFBQ expanded its transmission facility by installing a new, more powerful transmitter. Excellent for boosting the signal, but not great for the heat-gain within the building. By themselves, transmitters generate a massive amount of heat; therefore, cooling is a constant issue.

It was a delicate procedure as we worked around the transmitter tubing (the shiny copper object pictured left) – being extremely careful not to bump, dent, or scratch it – because if we did, it would disrupt the signal.

Our primary concern, dissipating the heat gain. We did this in two ways – first, sucking hot air out through a vented exhaust hood and second, bringing cool air in with an air conditioning supply diffuser and an inline fan to assist in the cooling process.

We were successful in evacuating the excessive heat and at the same time, keeping the power center at an optimal temperature to safeguard both people and equipment.
We'd like to extend a note of appreciation to Kurt Hibner, an HVAC specialist. After 32 years, Kurt has decided to retire. We will certainly miss him, and we wish him all the best!