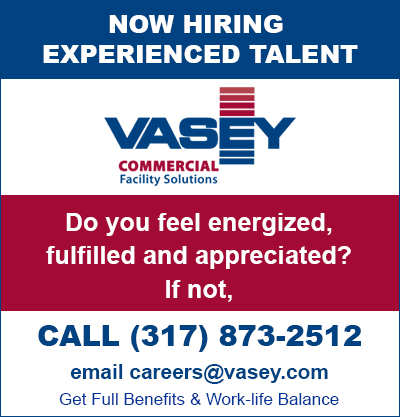 Are You a Top-tier Professional?
If you're an experienced HVAC or controls technician, a commercial plumber, or a refrigeration and appliance technician, and you'd rather work smarter than harder, we'd like to get to know you.
VASEY's focus on preventive maintenance is good for our customers, but it's also great for our techs. Since we're not constantly chasing down problems, we can provide predictable schedules. Sure, there may be times when a client has an emergency need, but most of the work is planned, so you'll know where and when you'll be working in advance.
Rob Zellers
VASEY Commercial Facility Solutions

,

,

"VASEY is a very well-established company and well-known within the community it serves.

VASEY is great with an understanding, supportive, and involved leadership team. It's like a large company with the feeling of a small, family atmosphere."
Larry Pennycuff
VASEY Commercial Facility Solutions

,

,

"I enjoy the daily camaraderie and collaboration with other team members to 'always do the right thing for our customers.'

Customers choose VASEY because we are relationship driven and focus meeting customers' long and short-term objectives."
Julie Rusaw
VASEY Commercial Facility Solutions

,

,

"Customers choose VASEY over the competition because VASEY is more like a partner in their businesses rather than just a vendor.

Plus, VASEY always goes the extra mile to maintain good relationships."
Sean Mooney
VASEY Commercial Facility Solutions

,

,

"Why should someone join the VASEY team? The reasons are numerous. There are many opportunities and paths within VASEY to find what you like to do. The team is very supportive and helpful in finding the perfect fit.

Additional training courses are available to continue learning. Also, you get a chance to work in other areas, developing different skills sets that you might not have access to otherwise."
Mike Bogan
VASEY Commercial Facility Solutions

,

,

"VASEY maintains a family-like work environment. As a veteran and committed team member, I cherish the fact that I've been given the tools to succeed – whether it's taken the form of mentorship and on-the-job training, or a more studious approach.

A key component to VASEY's success – excellent inter-departmental processes and communication – always with the ultimate goal of taking care of and exceeding the customers' expectations."
Kevin McDonald
VASEY Commercial Facility Solutions

,

,

"VASEY is a very welcoming environment with a stable and steady workload. In general, it is usually very laid back. I can only speak from my experience, but VASEY challenged my abilities by increasing my responsibilities. The management team provided ample resources and training to help me become a good manager.

My favorite part about working at VASEY is being able to help and serve our customers."
Tim Clapper
VASEY Commercial Facility Solutions

,

,

"I enjoy working for VASEY due to great ownership and co-workers. It's like working with family – in a good way. VASEY does an excellent job with hands-on training. I experience unique opportunities and learn something new almost every day – even after 18 years!

There's an openness and comradery among the team and we continually share and discuss ways to improve and master our craft."
We're also big believers in training, giving our team members opportunities to build their professional and personal skills. No wonder we have so many employees who have been with us for decades — and why our turnover rates are well below industry averages.
Team members appreciate our family atmosphere and a generous compensation package that includes:
Paid Time Off
Paid Holidays
Health Insurance
Life Insurance
Profit-Sharing
401k
Do you have the right skills and attitude to join our team?
Forward your resume to us and tell us why VASEY is the right place for you.
VASEY is an Equal Opportunity Employer
VASEY Commercial Facility Solutions provides equal employment opportunities (EEO) to all employees and applicants for employment without regard to race, color, religion, sex, national origin, age, disability or genetics. In addition to federal law requirements, VASEY complies with applicable state and local laws governing nondiscrimination in employment in every location in which the company has facilities. This policy applies to all terms and conditions of employment, including recruiting, hiring, placement, promotion, termination, layoff, recall, transfer, leaves of absence, compensation and training.
VASEY expressly prohibits any form of workplace harassment based on race, color, religion, gender, sexual orientation, gender identity or expression, national origin, age, genetic information, disability, or veteran status. Improper interference with the ability of VASEY's employees to perform their job duties may result in discipline up to and including discharge.