We're Committed to the Community
We know that a healthier community is good for business. That's why VASEY has made a strong commitment to support organizations that improve the quality of life for our neighbors. We encourage our team members to participate in special projects, and they respond with enthusiasm. Here are photos, videos, and details of some of our recent efforts.
Outside the Box
At the end of June 2017 we installed 20 air conditioning units at Outside the Box in Indianapolis, IN.
Founded in 2008, Outside the Box (OTB) supports more than 250 individuals with intellectual and developmental disabilities. OTB's goal for both employees and participants is the opportunity for individualized growth. Whether in the curriculum based Day Program, the creative arts experience of Studio OTB, or the customized Employment Services, they want all people to be the best they can be.
Our team of VASEY volunteers spent their Saturday morning bringing much needed comfort to everyone at the OTB facility.
Zionsville Presbyterian Church
On June 11, 2020, a team from VASEY helped their neighbor – Zionsville Presbyterian Church (ZPC) and the Zionsville Food Pantry unload and organize more than 11,000 pounds of food. It's the strong ties and cooperation between communities and corporations like VASEY, that help those in need. Watch members of the VASEY crew in action at the Zionsville Food Pantry.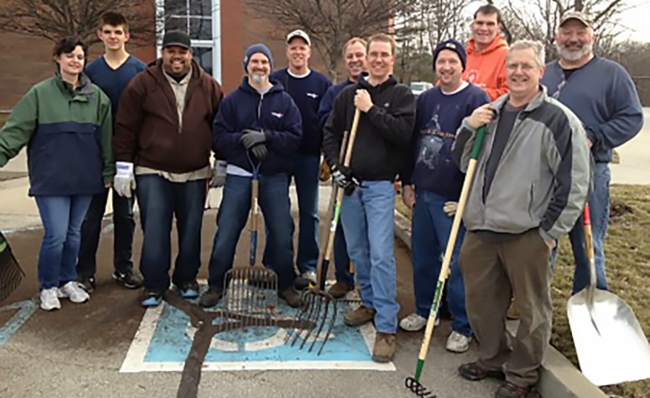 A few members of the VASEY team lent a helping hand to a nearby neighbor, the Zionsville Presbyterian Church. Several team members helped prepare the grounds of the church for the services to be held during Easter week.
Additionally, they did a collection for the church's food pantry and dropped it off on mulch day. Giving back to the community is important at VASEY. We enjoy helping others as well as having fun working together – inside and outside of the company!
Other Organizations
We are also involved in the following organizations:
Aaron Edwards Memorial
Arni's Charity Classic
Boone County FOP
Cathedral High School
Finish Line Youth Foundation
Grace Assemble of God
Indianapolis Firefighters
Jonathan Byrd Ev'ryMan Victory
Junior Achievement
Marian College
Marian College Scholarship
Mary's Child Center
Sisters of St. Benedict
Solid Word Bible Church