Members of the VASEY team attended the Continuing Education Conference & Vendor Showcase in Atlanta, GA. in February.
This annual event brings together employees of the ABM, Linc Service and TEGG franchises from across the country and across the globe. During this three-day event, attendees participate in targeted educational sessions, visit with industry-leading service and supply vendors at the Vendor Showcase, and are recognized for their achievements during the annual President's Awards Presentation.
The All-Star Diamond Event is held each year to honor the top sales performers and employee-of-the-year winners from the previous year. The top sales performers are referred to as Diamond Award Winners, as the Diamond Award is the most esteemed individual sales honor given to select individuals who showcase exemplary talents through their professionalism and noted sales successes. The event features optional outings and activities, dinner receptions, and an Awards Banquet.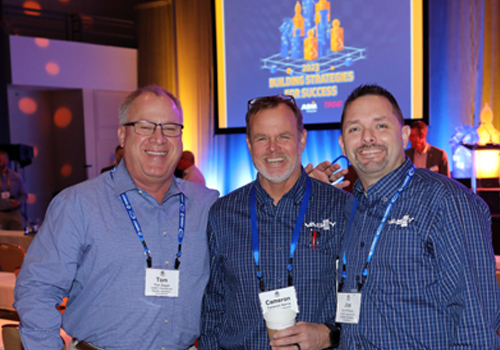 Tom Slagle, Principal (left) with Cameron Norris, Plumbing Development and Joe Williams, Service Manager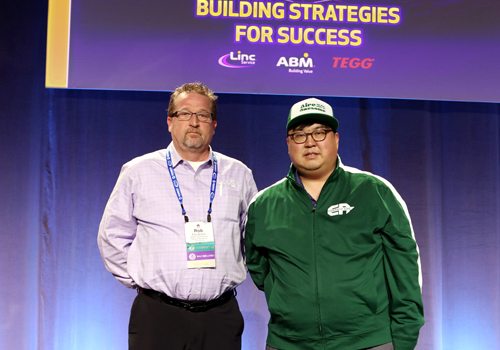 Rob Zellers, Maintenance Sales Representative (left) with Another Award Winner
Bronze Award (1 Quarter of 110% Sales Quota)
Clay Runshe (4)
Larry Pennycuff (4)
Bill Newton (4)
Danny Marshall (4)
Rob Zellers (3)
Kevin McDonald (3)
Mike Bogan (3)
Don Peabody (2)
Rick Cope (1)
Silver Award (4 Quarters of 110% Sales Quota)
Bill Newton (4)
Larry Pennycuff (4)
Danny Marshall (2)
Clay Runshe (1)
Rob Zellers (1)
Platinum Award (13 Consecutive Silver Awards)
Gold Award ($1 Million in Sales for Calendar Year or 9th Silver Award)
Clay Runshe
Larry Pennycuff
Bill Newton
Don Peabody
Danny Marshall
Kevin McDonald
Diamond Project Award ($2.7 Million in Sales/Year)
Clay Runshe ($3.2 Million)