We'd like to introduce you to our new Service Manager, Joe Williams. Joe has been with VASEY for 17 years. Joe understands our business inside and out. Previously, he was a technician servicing restaurant refrigeration. Before becoming Service Manager, Joe was also a supervisor. He knows how to take care of our technicians as well as our customers!
When asked, "What do you like most about working at VASEY?" Without hesitation, he blurted out "The people!" According to Joe, his co-workers make coming to VASEY fun and enjoyable.
When Joe isn't at VASEY, he is either coaching youth football, attending his kids' sporting events or riding dirt bikes. He's had multiple dirt bike adventures in Tennessee, Kentucky, Alabama, Michigan, Ohio and most often in West Virginia.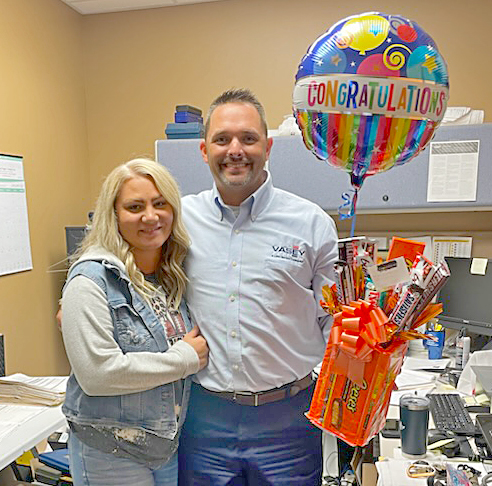 Joe's beautiful wife is Brandy. Brandy's favorite restaurant (for special occasions only) is Monterey Coastal Cuisine. According to Joe, the food is super delicious. They have three children, Bryce (16), Jackson (11), and Lynnlee (5) – all of whom Joe swears are going on 20! When not attending their sporting events, the family spends time at the racetrack or their family's property in Spencer. Joe grew up on the southside of Indianapolis.
Apparently, Joe has other hidden talents as well. He played percussion in the Indianapolis Philharmonic Orchestra. He also spent four years traveling and playing in Drum and Bugle Corps – DCI (Drum Corps International) is headquartered here in Indianapolis. Last but not least, if you want to score extra points and get on Joe's good side – Reese's are his favorite candy!