Meet Larry Pennycuff who has been with VASEY for over 15 years. With his past experience as VASEY's Chief Financial Officer (the early 2000s), he is currently one of our talented lead project managers. Larry brings a unique combination of product, application, and budget skills to serve our customers. As project manager, he is enthusiastic about creating innovative solutions, achieving optimum comfort and delivery superior energy needs to VASEY's customers.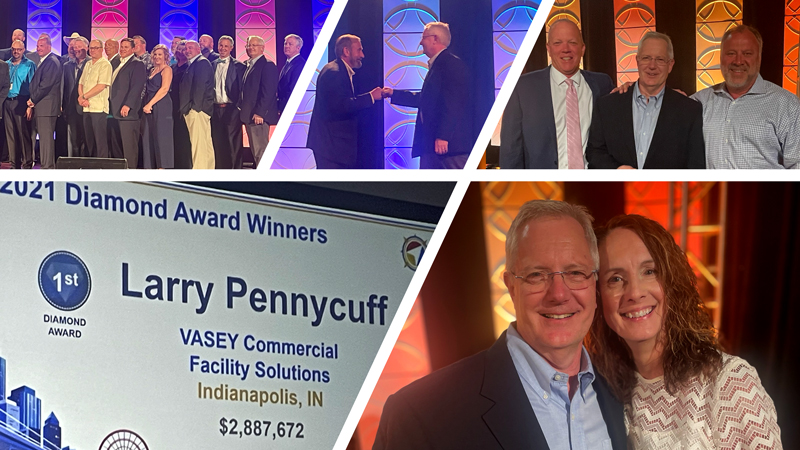 On February 16, 2022, Larry became the first person in our Projects Division to earn the distinguished 2021 Diamond Award – 2.9 million in sales. He and his wife Cathy enjoyed a trip to Hawaii with our principals, Tom Slagle, and David Sheffield where he received his coveted award and honored with other top salespeople from around the country.
Larry enjoys the daily camaraderie and collaboration with other team members to "always do the right thing for our customers." Additionally, Larry shared, "Customers choose VASEY because we are relationship driven and focus meeting customers' long and short-term objectives."
When he's not managing projects, Larry loves the outdoors – camping, hiking, and biking. Larry also enjoys watching NFL football, Formula 1, Indy Car racing. He is actively involved with church and family. Originally, Larry hails from Southern Ohio. Larry and his wife have two adult daughters – Stephanie (sixth grade teacher) and Abby (middle management with Lowes).
Larry, congratulations on achieving the Diamond Award. We appreciate all your hard work and dedication! Thanks for being such a valuable member of our team.